ACWH
Air Conditioner Water Heater
Frequently Asked Questions
What is an ACWH?
How much hot water can it make?
How hot will the water get?
How much electricity does it use for indoor cooling?
How much additional electricity is used when it is heating water?
Can I install it myself?
How much does it cost to have it completely installed by a professional?
How far from the water tank can the outdoor AC unit be located?
What are the other installation limitations?
What is included?
What else is needed to install the ACWH?
What options are available?
What about adding additional refrigerant when the line-set is extended?
What is the warranty?
Are there any safety issues?
Can it be shipped air freight?
How does it compare to solar water heating?
Can I convert my existing air conditioner to make free hot water?
What is a "DC Inverter" air conditioner or heat pump?
What is a "ductless" or mini-split" air conditioner?
What are the advantages of a ductless mini-split air conditioner?
What maintenance is required of the ACWH?
How do I turn it on?
Where can I see the wiring schematic?
What kind or wiring and breaker is required?
What qualifications does the unit have?
How do I get one for my home or business?
How can I become an authorized dealer?
Hot Water Production Chart

What is an ACWH?
It is a 18 SEER 18,000 BTU (1.5 Ton) Air Conditioner that makes free hot water while it is cooling the indoors with cold air. This full featured air conditioner has integrated heat recovery water heating technology so instead of throwing away all of the rejected heat to the outside, it captures waste heat and puts it into your hot water tank. It can provide hot water at 140F. It can provide indoor cooling or heating. It is a "ductless" or mini-split EnergyStar qualified air conditioner that makes free hot water. Read on to see more frequently asked questions and answers or see the full description and specs.
How much hot water can it make?
The ACWH is rated for 100 gallons free hot water per day under typical conditions. Depending on operating conditions, the actual hot water production can be as high as 173 gallons per day. See the chart at the bottom of the page to see the full hot water performance range.
How hot will the water get?
The systems maximum water temperature is 158F. We offer a 140F temperature limiter as an option. Or, you can install a mixing valve (also called an anti-scald valve or tempering valve). Your existing tank may already have such a valve, if so then you don't need to worry about it.

How much electricity does it use for indoor cooling?
The HotSpot ACWH is rated at SEER 18 which is a very high efficiency rating and exceeds EnergyStar requirements. At full maximum load, it will use 1333 watts per hour to produce 18,000 BTU (1.5 tons) of cooling.

How much additional electricity is used when it is heating water?
Zero. None. The ACWH does not use any additional electricity when it is making hot water. That's why we call it free hot water. The unit actually uses less watts when it is heating water, because when the heat recovery circuit is removing heat for water heating, the AC compressor does not have to work as hard.

Can I install it myself?
You can do all or nearly nearly all of the installation yourself if you choose. At a minimum, you should have a HVAC technician come and make a ~90 minute service call to commission (final connectiions, charge and start-up) the unit after it is installed. It is however legal to install R410a systems without an EPA 608 license, so if you have a vacuum pump and know what you are doing, it is possible to self-install it.

How much does it cost to have it completely installed by a professional?
A standard professional installation can be completed by a competent technician and a helper in less than one 8-hour workday. Hourly rates vary by area. The installation materials should be under $300.

How far from the water tank can the outdoor AC unit be located?
It is safe to say 100 ft. one-way distance. However, if the water lines are properly sized and very straight with few bends it can reach up to 150 ft. If longer water lines are required a small booster pump can be used.

What are the other installation limitations?
For systems installed where the outdoor unit is more than 16 feet higher or lower in elevation than the indoor unit (for example a roof mounted outdoor unit with an indoor unit mounted in a basement, or a ground mounted outdoor unit with a 3rd floor indoor unit) there are some additional requirements. Up to 16 ft. of elevation difference is OK. If the elevation difference between the indoor and outdoor units is 17 to 25 ft. higher or lower then you must install a refrigerant trap at any point between 8ft. and 16 ft. of elevation. For systems with more than a 25 ft. elevation you must install a trap every 16 ft. The unit ships with a 12.5 ft. line-set, so unless you extend it, you do not have to consider any restrictions regarding length, height or refrigerant.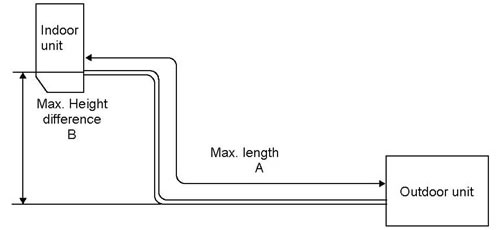 A= 50 ft. (above 16 ft. requires additional refrigerant to be added, see owners manual)
B=16 ft. without a trap

What is included?
The unit includes the indoor unit, outdoor unit, remote control and a 12.5 ft. line-set for connecting the indoor unit to the outdoor unit. The unit is pre-charged with R410a refrigerant.
What else is needed to install the ACWH?
You will need to provide a power source (220-230v AC) and water lines to connect to your hot water tank. The water line should be at least 3/4" PEX or copper pipe, with insulation. You will also need some common materials available from the local hardware supply. You may wish to also purchase our Tank Tap Adapter or other accessories. The cost of needed materials including the tank tap adapter should be under $300.
What options are available?
The system options include freeze-protection and a high temperature limiter. If you live in a climate where freezing conditions are possible, you should specify the freeze protection option. We also offer a high temp limit option to stop the system at 140F. Other options include exterior wall mount brackets, and line-set extensions that allow an increase of distance between the indoor and outdoor units from 12 to 25 ft. A competent refrigeration technician can make up a line-set using standard flanged fittings, up to 75 ft. (See owners manual for adding additional refrigerant).

What about adding additional refrigerant when the line-set is extended?
The pre-charged system contains enough refrigerant to use the included line-set.To extend the line-set past 12 ft. with a 25 ft. extension or a custom made line-set, use the following charge information:



What is the warranty?
The warranty is five years on the compressor, 10 years on the heat exchanger, two years on the water pump and one year on all other parts. The compressor warranty requires commissioning by a licensed HVAC technician.

Can it be shipped air freight?
Yes, but special preparations must be made to satisfy US flight safety regulations. Because the units are pre-charged, we have to de-charge it before it can be shipped by air. All of the refrigerant must be recovered, the oil separated and put back into the unit, and the refrigerant must be properly disposed of. We also put a low pressure nitrogen charge in the unit. There are extra charges for us to perform this procedure. When you go to install an air-shipped unit, you will need a supply of R410a, vacuum pump, etc. and a professional HVAC technician to evacuate, charge and commission the unit.

Are there any safety issues?
The ACWH is a 230v system, you must be careful with all electrical equipment. The unit is ETL approved, and uses a UL and NSF approved pump and hot water circuit including a double-wall, vented all copper heat exchanger. All water contact surfaces are copper or stainless steel. Another important safety consideration is water temperature, please see water temperature information.

How does ACWH compare to solar water heating?
In a southern climate, the ACWH hot water production equals or exceeds that of a solar water heating system with two 4x8 solar panels. Of course, solar water heaters don't provide cooling and heating of your interior air space. A detailed comparison is here.
Can I convert an existing air conditioner to make free hot water?
Yes! Actually that is how we got started in this industry and we are experts at retrofitting refrigerant heat recovery applications. HotSpot produces aftermarket heat recovery solutions that allow you to upgrade any air conditioner, large cooler or freezer etc. to recover heat and make free hot water. See commercial or residential heat recovery water heating solutions.
What is a "DC Inverter" air conditioner or heat pump?
The ACWH is a DC Inverter heat pump air conditioner with an integrated heat recovery circuit. A "DC Inverter" air conditioner is the most energy efficient type of air conditioner on the market and will carry the highest SEER ratings. They use a variable-frequency drive to control the speed of the compressor motor. A micro controller samples the current air temperatures and adjusts the speed of the compressor appropriately, eliminating the typical stop-start cycle of a standard unit. This increases electrical efficiency and extends the life of components which makes inverter air conditioners cheaper to own and operate, and quieter than a standard air conditioner. Where a standard AC runs at 60 hz and turns on and off to meet demand, a DC Inverter unit operates at variable speeds between 20hz and 125hz, based on real time capacity requirements, to save energy.
What is a "ductless" or mini-split" air conditioner?
This refers to a system like the ACWH that does not use a ducting system. The condenser and evaporator are physically separate equipment and connect via refrigerant tube/control wire bundle called a line-set.

What are the advantages of a ductless mini-split air conditioner?
Security - no window or large hole is needed for installation.
No ductwork - eliminates loss of BTUs in ductwork, less costly to install.
Simple installation - the units are preconfigured, pre-charged with refrigerant, fit anywhere.

What maintenance is required of the ACWH?
The air filters in the indoor unit should be cleaned as needed depending on usage. The air filter can be accessed easily, use a damp cloth to clean.
How do I turn it on?
There is an on-off switch located under the cable protection cover. Once your unit is completely installed you will not need to turn it off unless you drain your water system. If desired, during installation the AC side can be connected first, with the heat recovey switched off until after the water side is connected.
Where can I see the wiring schematic?
This information below is supplied in the user manual in more detail.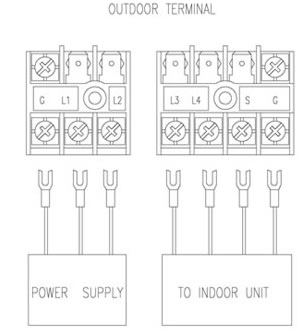 What kind of power and breaker is required?
Breaker: 20A
Voltage:230 AC 60 hz
What qualifications does the unit have?
The air conditioner cooling and heating has been tested for efficiency by CSA to AHRI standards, has a SEER 18 rating, and is EnergyStar certified. The system is also certified to UL 1995 and is CE and ETL Listed. The water pump and all potable water contact parts are UL Listed and NSF (ANSI 61) compliant.
How do I get one for my home or business?
HotSpot sells all of it's products through a national and global network of authorized dealers. Contact us to connect with a dealer near you.
How can I become an authorized dealer?
HotSpot is interested in working with qualified partners, resellers and integrators in all areas of the USA and around the world. Please see our dealers page.

Hot Water Production Chart
Daily hot water production and BTU recovery vary based on entering water temperature, how hard the air conditioner is working at the moment and how many hours per day the air conditioner is turned on. The ACWH 18,000 BTU unit is a high efficiency dynamic capacity unit so depending on the temperature it may slow itself down and operate at less than it's full rated cooling capacity at times when maximum cooling capacity is not needed. This causes a similar variance in hot water capacity, please see the chart below. The top section refers to operation in a hot climate at 18,000 BTUs, the bottom section refers to operation at reduced cooling capacity in a milder climate when the system is operating at an average of 12,000 BTUs.