Solar Heat Pump

Certified by ETL, EnergyStar, and CEC (California Energy Commission)
| | |
| --- | --- |
| ACDC12 Solar Heater & Air Conditioner | |
No need for pumps, tanks, glycol, water lines, controllers, drain-back systems, or plumbing issues that you find with other solar heating systems. This high-efficiency solar heater is a heat pump that provides 12,000 BTU of heat per hour, for pennies a day! And unlike typical solar space heating solutions, with the ACDC12 there is no wasted investment in the summer - this unit is also a high efficiency solar air conditioner!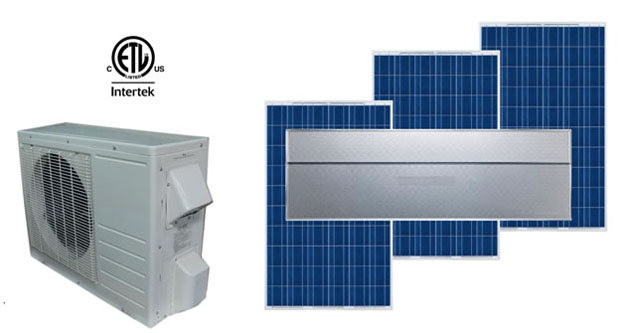 During the day the solar heater runs primarily on solar power and only uses only small amounts of power from the utility company as needed. Hybrid AC-DC operation eliminates the need for batteries and allows 24 hours per day use of the system. The system primarily uses solar power, and mixes it with normal AC power. This is not an off-grid system, it requires a normal electrical connection. If you need an off-grid solar heating system, please see our pure-solar/DC heat pump heating and cooling system DC4812VRF.

This solar power heat system will provide heat for pennies per hour with up to 90% or more of the energy coming from the sun. And unlike most heat pumps that quit working when outdoor temperature drops below 39F, the ACDC12 is a low-ambient optimized solar heat pump unit designed to function all the way down to 5F.

The ACDC12 solar heat pump needs no batteries, and uses just three PV solar panels to deliver a large savings. Instead of leaving the heat off or turned to a low setting during the day, you can let this system run all day since it costs next to nothing to operate. Come home to a nice warm indoor temperature and save money on your evening heating costs by keeping the interior warm and avoiding the high energy "catch up" needed by the regular heating system to bring indoor conditions up to a comfortable temperature.

During the day you can operate this unit in heating mode with very little draw on your utility meter. At night, you continue to save due to the >10 HSPF rating on this unit. The mini-split heat pump design allows you to put solar heat into the area where it's needed and avoid the high costs and maintenance issues of a solar thermal heating system.



How It Works

Compare To Passive Solar Heat or Solar Thermal Heating System
Cost: A typical fully installed solar thermal heating system costs 3-5 times more than a fully installed ACDC12, for the same BTU capacity!
Reliability: No complex controls, pumps, valves, tanks, water lines, or glycol to deal with.
Summer: The ACDC12 also provides free cooling in the summer! Get a faster return on your investment by saving money in both summer and winter.
DIY Solar Heat: Do it yourself. The ACDC12 solar heat pump uses R410a, so no special license is required to install it. We do recommend a licensed AC contractor make a quick service call for the final connection, but that part is up to you. If doing it yourself, you will need a vacuum pump to commission the unit.
How Does Solar Heating Work? It's an extra-high efficiency, low-ambient solar heat pump. For an overview of the technology involved, see the section on our technology or see the frequently asked questions.
Ordering, Pricing & Specifications
The list price of the ACDC12 is $1695. Solar panels, etc., are not included. Solar and HVAC professionals who purchase in quantity should contact us for dealer and distributor pricing.


Download Spec Sheet See ETL Listing See UL Energy Report
Installation Accessories Guide See Off-Grid solar/telecom AC units
Contact Us or call 1-800-916-2067