Enter the desired pool temperature set point and the controller manages the heat recovery system, making sure you get all available heat while ensuring that your pool does not get warmer than you like. When the pool temperature is below the set point, heat recovery is enabled. Above the set point, heat recovery will be disengaged. Hysteresis programming logic prevents cycling.
The standard pool heat controller will not turn your AC on or off, the AC operation is controlled by your indoor thermostat in the normal manner. The FPH controller simply decides whether available heat needs to go into the pool or be rejected in the normal condenser, and manages the valves and relays needed for operation. The controller will turn on the pool pump if it's needed and not already running.
The FPH system safely switches the system between the air cooled condenser (normal) and the water cooled condenser (pool), automatically evacuating any leftover refrigerant from the idle condenser.
For heating pools, and beyond - if you can think of it, we can probably do it.
Our controls can precisely manage heat recovery from air conditioners and large refrigeration/freezers, supporting a wide range of applications such as pool heating, hydronic building heat, boiler pre-heating, and more.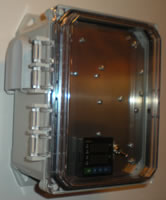 NEMA4 Outdoor
Control Unit